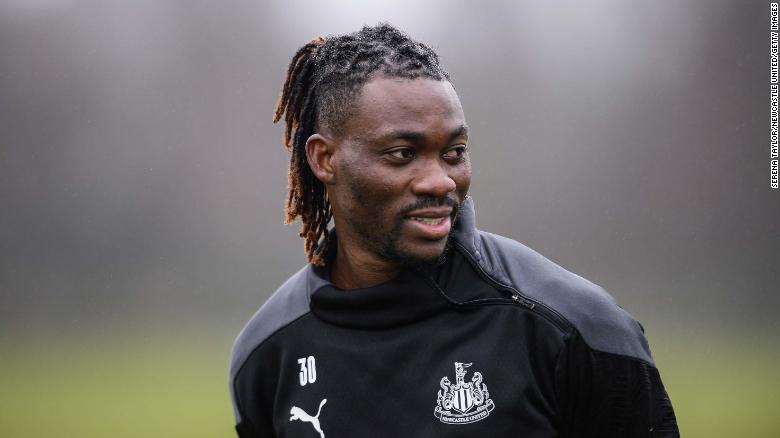 Ghanaian football player Christian Atsu was found alive after Monday's earthquake in southern Turkey and is in "stable condition" at a local hospital, the Ghana Football Association and Atsu's agent said Tuesday.
"We have received positive news that Christian Atsu has been successfully rescued from the rubble of the collapsed building and is now receiving treatment. Let us continue to pray for Christian," the Ghanaian FA wrote on Twitter.
Atsu's agent, Nana Sechere, told CNN on Tuesday that his client was in "stable" condition at a local hospital after being successfully rescued from the rubble of a collapsed building. Atsu was not immediately located after the earthquake.
Atsu, who plays for Hatayspor in Turkey, had been celebrating after his last-minute winning goal in his club's 1-0 home win over Kasimpasa on Sunday night, according to his agent.
"There were many reports from England and Ghana that Christian was safe, but I received the first official confirmation on Tuesday morning," Sechere said.
"The club informed me that he is in the hospital and that his condition is stable. He does not have a phone, and like all of us, he can not memorise his numbers, so I have to keep waiting to talk to him," he said.
Sechere said Atsu played poker with friends until 3:30 a.m. local time on Monday and got home around four in the morning.
The agent said he received a call at 5 a.m. from Hatayspor club representatives, who told him that the building where Atsu was staying had been completely destroyed and they could not reach him.
"The last I had heard from Christian was midnight. I hoped he was awake and the earthquake had not happened while he was sleeping," Sechere said.
"His building was an 11-story building and he was on the ninth floor. The club representatives tried to help me find him, but it was so difficult because they were understandably trying to find their own friends and families as well," he added.

"I even remember when he signed with Hatayspor and we went to the hospital for a medical checkup. Even then it was very crowded, with people lining up and lying on the floor. So I can only imagine what it's like in this situation," Sechere said.
Atsu's former club Everton shared on its official Facebook page, "We are relieved to hear that Christian Atsu was successfully saved and is recovering in hospital. Our thoughts continue to be with everyone affected by the earthquakes in Turkey and Syria."

More than 5,000 deaths and more than 21,000 injuries have been confirmed in Turkey and Syria following the earthquakes that struck the region on Monday.
In Turkey, casualties were reported in 10 provinces, including Hatay, home of Atsu's football club Hatayspor.
He had previously played for top English clubs including Chelsea, Everton, Bournemouth and Newcastle.