Team Giannis defeats Team LeBron in the NBA All-Star Game as Celtics' Jayson Tatum sets new game record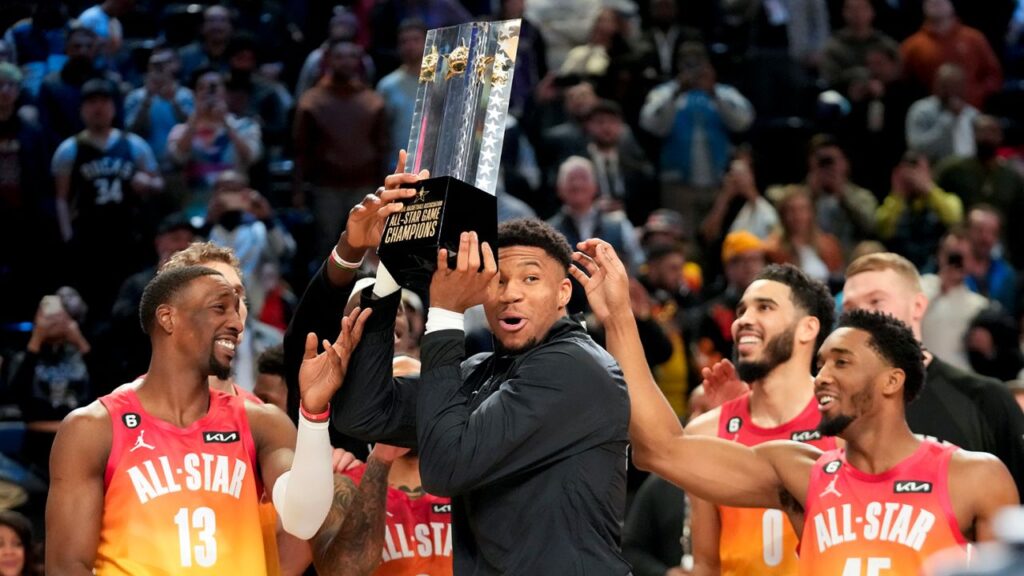 Los Angeles Lakers icon LeBron James' perfect 5-0 record as an NBA All-Star Game captain has come to an end after his team was defeated 184-175 by Team Giannis on Sunday night in Salt Lake City, Utah.
Receiving the winner's trophy, All-Star captain and Milwaukee Bucks star Giannis Antetokounmpo jokingly said, "Winner, winner, chicken dinner"
The 72nd All-Star Game capped a weekend featuring the league's most talented players, held in Utah for the first time in 30 years.
Both teams played to raise nearly $1 million for their chosen charities – Big Brothers Big Sisters of Utah for Team LeBron and Raise the Future for Team Giannis.
Boston Celtics forward Jayson Tatum finished with 55 points, setting a new All-Star Game record. Tatum was named MVP of the game.
"It means the world," Tatum said when asked about the significance of the record.
"You think about all the legends and great players that played in that game, and honestly, records are meant to be broken," Tatum said after the game on TNT. "I'll hold it as long as I can, but I'm sure in a few years someone will come along and try to break it
At halftime, the league honored James, who set the NBA scoring record earlier this month. He was joined by Lakers legend Kareem Abdul-Jabbar and Utah Jazz legend Karl Malone, who rank second and third, respectively, on the NBA record list.
James had to leave the game with a hand injury after apparently hitting the rim with his hand in the first half, according to TNT. He finished the night with 13 points and four assists.
"I'm fine. I don't think it's too much to worry about, but for precautionary reasons I had to take the rest of the night off," James said after the game.
The weekend's contests began Friday with an All-Star Celebrity Game featuring rappers 21 Savage and Cordae, actor Simu Liu, tennis star Frances Tiafoe, NFL player DK Metcalf and singers Nicky Jam, Janelle Monáe and Ozuna.
The celebrity players were coached by Ryan Smith, governor and honorary captain of the Utah Jazz, and three-time NBA champion Dwyane Wade.
Also on Friday, four teams competed in the Rising Stars Showdowns, which pitted the league's best young talent against each other.
Saturday's schedule included a skills competition, a three-point contest and a dunk contest.
Mac McClung was crowned the NBA slam dunk champion. He scored a perfect score of 50 on three of his four dunks, capping a week in which he signed a two-way contract with the Philadelphia 76ers.