Primary voters aren't excited about Biden or Trump. What does that mean for 2024?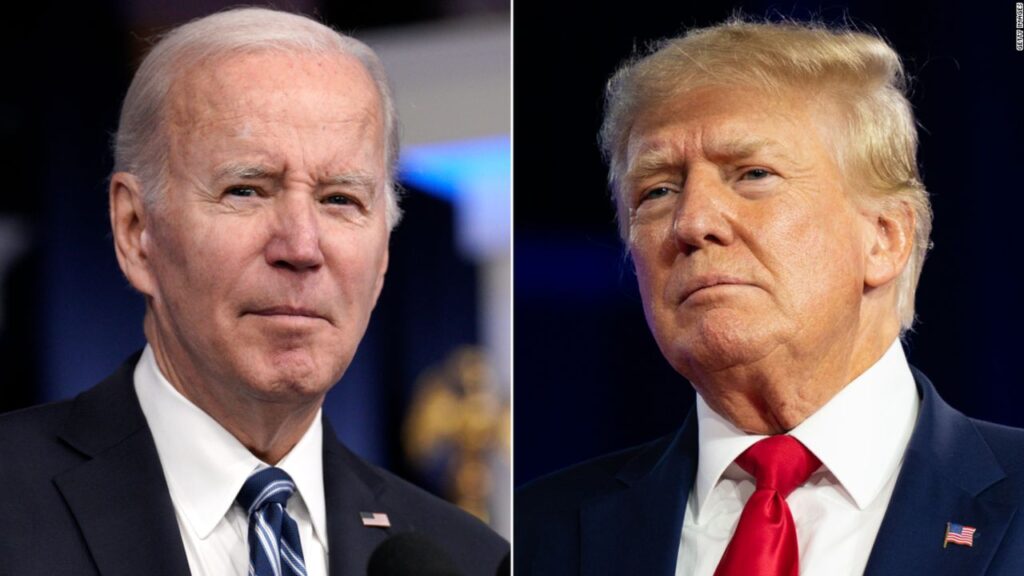 The first phase of the primaries for the 2024 presidential election has officially begun, bringing with it a series of early polls designed to answer a seemingly fundamental question: whether President Joe Biden and his predecessor Donald Trump have the support of their respective parties.
This issue, however, is more complicated than it seems, reflecting the complex attitudes of voters towards the two men, which in both cases are far from enthusiastic endorsements or definitive rejections.
At first glance, Trump, who made his third bid for the presidency in November, and Biden, who has yet to officially announce his re-election plans, appear to face similar challenges.
In a recent poll by the Washington Post and ABC News, only 44% of Republicans and independents close to the Republicans said they'd prefer Trump to win the party's nomination in 2024, and only 31% of Democrats would like to see Biden re-nominated.
This is consistent with other recent polls, including a CNN poll from December, in which only 38% of voters leaning Republican and 40% of voters leaning Democratic think their parties should re-nominate Trump and Biden, respectively.
While many Republicans and Democrats would prefer someone else to be nominated, the vague concept of "someone else" isn't a suitable challenger for the presidency. And when it comes to concrete, viable competitors, Trump and Biden currently face very different situations.
So far, one potential challenger to Trump has broken through in the primaries among the GOP faithful: Ron DeSantis, governor of Florida, although polls fluctuate on his exact strength against the former president.
In a recent Monmouth University poll that asked GOP and GOP-savvy voters an open-ended question about who they'd like to see as their party's nominee next year, most named either Trump (33%) or DeSantis (33%). Two per cent or fewer named someone else as a possible candidate – including former South Carolina governor Nikki Haley, the most recent entrant to the GOP race, who hadn't declared at the time of the poll.
The December CNN poll found that of Republican-leaning voters who favoured a candidate other than Trump, 47% had a specific alternative candidate in mind, including 38% who named DeSantis.
There are no similarly prominent rivals to Biden: 72% of Democratic-leaning voters in the December CNN poll said they wanted a different candidate.
Despite the lukewarm internal party reactions to Trump and Biden's 2024 candidacies, both are largely highly regarded in their parties.
In the Post's poll ABC, 79% of Republicans and independents close to Republicans said they'd view it favourably if Trump were elected to the White House in 2024, while 72% of Democrats and those close to Democrats said the same about the prospect of Biden's re-election. Only 7% of Republicans said they'd be angry if Trump returned to office, and only 3% of Democrats said they'd be angry if Biden ran for another term, according to the poll by ABC.
And in a January CNN poll, 29% of adult Republicans said they disliked Trump, compared to 14% of Democrats who disliked Biden.
With nearly a year to go before the vote, the landscape of the 2024 primaries may yet change as new candidates enter the race and voters learn more about them. This is especially true for the Republicans, where a number of politicians have openly expressed interest in running. Democratic leaders, on the other hand, have largely shied away from calls to challenge a re-election campaign for Biden.
None of the recent poll results predict how the presidential primary landscape will evolve in the coming months or how public opinion might respond. Taken together, however, they help paint a more comprehensive picture of the current state of play.
Both Trump and Biden remain very popular with their respective parties, even as Democrats and Republicans jointly look for alternatives. And unlike Biden, at least one potential challenger has emerged for Trump so far.