Biden makes surprise visit to Ukraine for first time since full-scale war began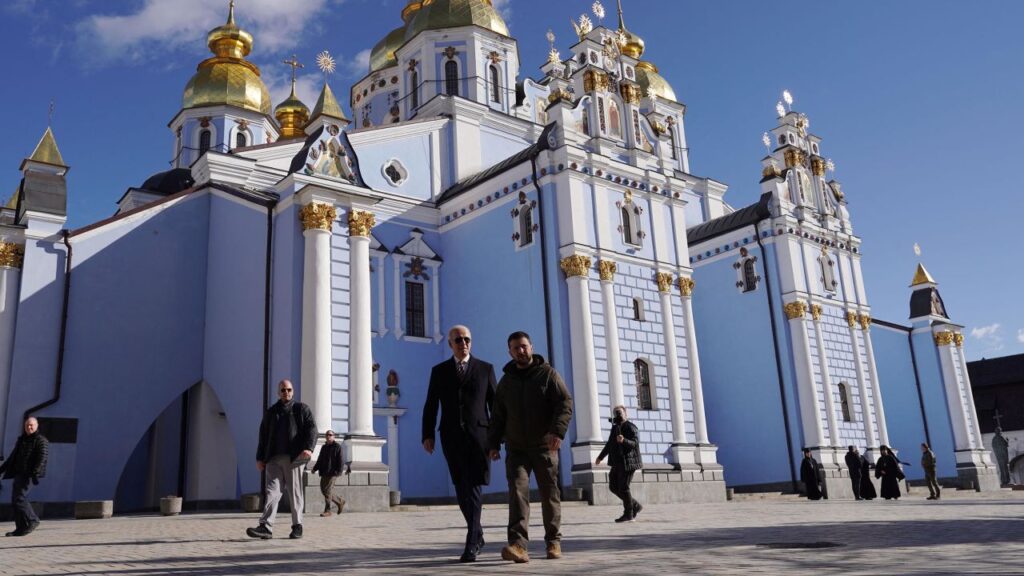 President Joe Biden travelled to Kiev on Monday for the first time since the Russian invasion of Ukraine began nearly a year ago, dramatically demonstrating his commitment to the country and its struggle as the war enters an uncertain new phase.
The highly secretive visit – which took place as air-raid sirens sounded in Kiev and Biden walked alongside President Volodymyr Zelensky around the golden-domed St Michael's Cathedral – comes at a critical time in the 12-month conflict, as Russia prepares for an expected spring offensive and Ukraine hopes to retake territory soon.
Biden announced half a billion dollars in new aid and said the package would include more military equipment such as artillery ammunition, more spears and howitzers. He also announced that new sanctions would be imposed on Moscow later this week.
"One year later: Kiev stands. And Ukraine stands. Democracy stands," Biden said.
The United States and other Western countries have supplied weapons, tanks and ammunition to Ukraine in the hope of changing the course of the war. With his personal visit, Biden provides a unique picture of American support for Zelensky, who has spent the past year trying to rally the world behind his country and ask for greater help.
Biden arrived in Kyiv at 8am local time after a long, undercover trip from Washington and arrived at the Mariinsky Palace half an hour later. He left Kiev in the early afternoon.
"Thank you for coming," Zelensky said, shaking Biden's hand.
US officials have secretly expressed hope that the massive influx of weapons to Ukraine – including new vehicles, longer-range missiles and Patriot air defence systems – can help Ukraine assert itself on the battlefield and put Zelensky in a stronger position to negotiate an end to the war.
However, it remains unclear what parameters Zelensky would be willing to accept in any peace negotiations, and the US has steadfastly refused to define what an agreement might look like, stating only that the decision will be up to Zelensky.
A high-stakes visit
Biden's visit was a symbolic moment as it came a day before a planned speech by Russian President Vladimir Putin on the anniversary of the war. In his speech in Kiev, Biden declared that Putin's "war of conquest has failed"
"Putin thought Ukraine was weak and the West was divided," said Biden, who stood next to Zelensky. "He thought he could take us by surprise. I don't think he thinks that at the moment"